Welcome to The Fab Life Project!
Pull up a chair, prop your feet on your desk,take your socks off, or whatever it is you do to get comfy. I want you to stick around for awhile.
I started this blog back in July 2010 from the gray confines of a corporate cube in the crush that is Midtown Manhattan. At the time I was working as a junior editor at a magazine (a job that many would say is pretty glam), but it wasn't my dream.
Daily, I was growing discontented and disgruntled, and that's totally against my value system. Plus, daily frowning causes wrinkles.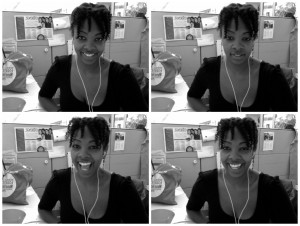 So, what is The Fab Life Project?
Honestly, when I started writing this blog, the only message I kept hearing in my head was "I don't want people to settle for shitty lives."
Seriously.
I'd read blogs about this thing called "lifestyle design".  It's somewhere between the craziness of the four-hour workweek, and traveling the world, nomad style.
The definitions vary, and that's what it's all about. Building your life according to your terms, not living according to someone else's script.
It is my deep belief that life is too damn short to spend it living in a state of misery because you are too busy trying to fit the mold of what the world is telling you that you should be.
If you are a young twentysomething/thirtysomething, it can be hard to realize that your hopes and dreams don't look the way you were always told that they would look.  Fear, bogus old school rules, and thinking that you don't know what you want can lead you to feeling stuck.
It ain't always easy to go against the grain, but when your life is on the line, what do you really have to lose?
My mission is to encourage you not to let anything get in the way of creating the life you want-including, but not limited to:
Fears that can stop us before we even try.
Limiting beliefs that cause us to think small.
A paralyzing need for outside approval.
Believing that when you fall down, you can't get back up.
I believe that in order to find happiness and success in our world, you have to figure out how to define what those things mean to you, on your own terms. You have to own your story.
Each week I publish free, inspiring and insightful articles on work, life, travel, entrepreneurship, and the pursuit of awesomeness.  Are you on the mailing list? If not, you should be, Can't have you missing out on a darn thing!
In addition to posts, I frequently run free online workshops geared toward helping you step up your biz and personal branding game. In the future, I'll be adding on some ways that you can work with me one-on-one. Stay tuned for that, my friend.
Alright, alright, alriiiiiight, I've talked enough. Go forth and be fab. Thank you for taking this journey with me. Let's connect, I'd love to hear from you!
Begin Your "Fab Life"Adventure
Step 1: Let Me Throw A Party In Your Inbox
Signing up for the free e-mail list means you'll be notified of new posts, get first dibs on my online workshops, and other kick ass things I decide to send your way. If I ever start annoying the heck out of you, just unsubscribe. But clearly, you're awesome, and I'm awesome, so the chances of that happening are like zero.
Excited?