By now you've probably seen it, heard about it at the least, and spent more than a few minutes "ooo-ing and ahhh-ing" it from every angle at the most.
Yes, I'm talking about Solange Knowles' wedding dress. No, I don't really spend much time writing about pop culture, but this particular topic fit within the frame of something I wanted to explore.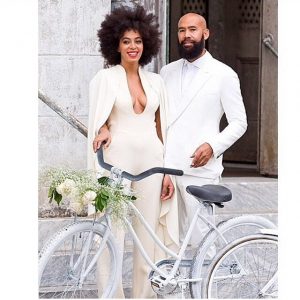 A few months back, a reader hit me up on Twitter and asked me to write about how not everyone wants that white, picket-fence life,  and how there are other life choices out there beyond getting married, popping out kids, and doing the "typical thing".
I pondered it. And had this been a few years ago, I probably would have been down to ride out, and roll over those picket fence notions, but instead I'll do something different: challenge you to define your relationship state for yourself.
In terms of what you want, what you never wanted, what you feel pressured to aspire to,  what hasn't worked out, and what you are afraid of.
Back in the day no one questioned the validity of choosing to go about your life in the way the ancestors have mostly done it. It made sense, and the options were few.
Now, we have more access to more choices. We can travel further, delay commitments, and control so many aspects of our fertility.
And this has caused some chaos.
Debates around traditional versus non conformist choices seem to turn into some kind of odd boxing match as each side fights to validate their life choices.  We've been sold on specific ideas of what each state should look like, and the truth is that it causes some anxiety for all.
And that's what made me think about Solange. Although she did something very traditional, the way in which she did it, speaks to the uniqueness of her spirit. A wedding dress with a cape? Bicycles instead of a cheesy limo?  A tableau of fierce women as the main wedding picture?
Homegirl just switched up the game. She defined her wedding her way, and made it what she wanted it to be.
And I think if we approach our life choices in that fashion, defining them in our own way rather that trying to squeeze them into some pre conformed notions, we can all fly free, ring or no ring, babies or no babies, fences and open spaces be damned.
I'd love your thoughts.
Subscribe To The Fab Life Project